Today's Tech News #16
Amazon Fined EUR 4 Million in France Over Competition Issues:
On Tuesday, The French website Nextinpact reported that the Online retail giant Amazon was fined around $ 4.5 million by the Paris commercial court. This is because of introducing abusive clauses in its contracts with third-party vendors.
The French consumer fraud watchdog at the finance ministry, which had taken the matter to court.
Gmail for iOS Gets Image Blocking to Prevent Email Tracking:
Google updated its Gmail app for iOS devices only with a different image blocking setting. This step is to prevent Gmail from automatically loading attached images.
From this updates users also can easily select this features in setting. This update will always ask user to display external images in an email or not. This new features is updated to track services that embed small invisible images into emails to let a sender know when an email has been opened.
Google Confirms It Is Working restlessly on Calendar Spam Fixing:
Google finally acknowledged the Calendar spam issue. And said that they are working on spam fixing.
The company posted in its Calendar Help Forum that this spam could lead to potential theft of private data. This spam was detected a few months ago but now its on rise.
Flipkart disclose Hindi Language Support and Aimed at Next 200 Million Customers Coming Online:
According to ANI Report, the social giant Flipkart announced the introduction of Hindi interface on its platform to make it more engaging for the next 200 million customers coming online.
This step is to provide experience like e-commerce in a more inclusive and seamless manner and their launch is also being done in phases and will be completed in a month.
Amazon India to decrease Single-Use Plastic Packaging by June 2020:
The E-commerce giant Amazon.com Inc's India said on Wednesday that unit plans to replace single-use plastic in its packaging by June 2020.
This latest move by amazon is to decrease plastic use from the country's cities and towns that frequently rank among the world's most polluted.
Swiggy Go Launched for Instant Pick Up and Delivery of Packages:
On Wednesday, food delivery app Swiggy launched 'Swiggy Go'. This is an instant pick up and drop service anywhere across the city.
According to the company, 'Swiggy Go' is for pick up and drop off laundry, get forgotten keys, send lunch boxes from home to office. And also for delivering documents or parcels to clients etc.
Facebook Brings Face Recognition to All Users, Discontinues 'Tag Suggestions':
On Tuesday. The top social giant Facebook said that facial recognition technology applied to photos at the social network will be an opt-in feature.
This change allows users around the world came as the leading social network. This remains under pressure to better protect privacy and user data, including biometric information.
Honor 20s, Honor Play 3 With Triple Rear Cameras, Hole-Punch Display Launched:
On Wednesday, Honor launched its new Honor 20s and Honor Play 3 smartphones in China. These two phones will go on sale in China first, but there is no word on their international release.
These new Honor smartphones also comes with triple rear cameras, hole-punch screens, and octa-core SoCs. The Honor 20s is carrying a price of roughly around Rs. 19,000 for the 6GB + 128GB model. The 8GB + 128GB variant is carrying a price tag of roughly Rs. 22,000. On the other hand, Honor Play 3 also starting with a price tag of roughly Rs. 10,000 its 4GB + 64GB model. Both 4GB + 128GB and 6GB + 64GB models too are carrying price of roughly Rs. 13,000.
Infinix Hot 8 With Triple Rear Cameras, 5,000mAh Battery Launched in India:
In Inida, Infinix Hot 8 has now launched. This smartphone coming with a triple rear camera setup, a 5,000mAh battery. And also with an 8-megapixel front camera, 6.52-inch display, a waterdrop-style notch too. This smartphone comes in two color variants.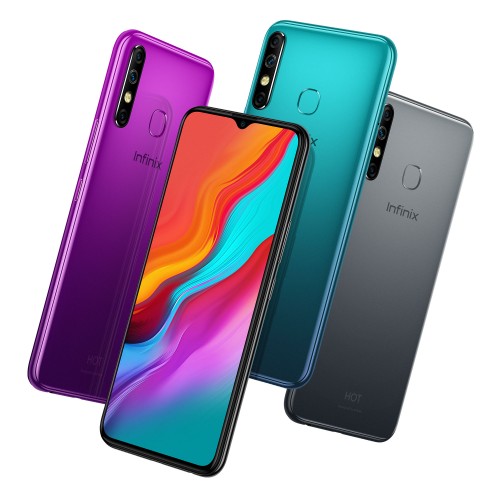 In India, Infinix Hot 8 is carrying a price tag of Rs.7,999 for the 4GB RAM + 64GB storage variants. The phone will be available at a special price of Rs. 6,999 till October 30.
Gionee F9 Plus With Octa-Core SoC, 13-Megapixel Selfie Camera Launched:
On Wednesday, Gionee India launched its new smartphone Gionee F9 Plus in India. This smartphone will come in two color variants and carring a price tag of Rs. 7,690.
This phone also comes with 4,050mAh battery, 6.26-inch HD+ display, a waterdrop-style notch, clocked at 1.65GHz, 3GB of RAM, 13-MP primary shooter and a 2-megapixel secondary camera.
Therefore, i hope that the article was helpful.
Above was the Today's Tech News #16. For such kind of daily News please follow us on below social pages-
For Latest Technology Update: Click Here.
Please do not forget to give your valuable feedback.